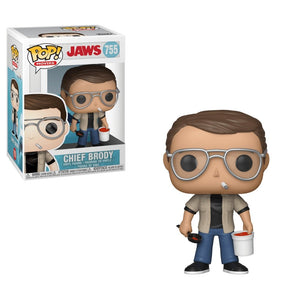 Pop! Movies: Jaws - Chief Brody
You're gonna need a bigger display case now that Funko have released their wave of Jaws Pop! Vinyl Figures, which are sure to delight any fan of the 1975 classic film.
Jaws is a film that changed Hollywood, terrified audiences and earned its rightful place in pop culture infamy. Set in the fictional beachside town of Amity Island, Jaws follows the story of Chief Brody and his dilemma of trying to protect his residents from the horror of a giant shark that's wreaking havoc in the bay.
This wave features not only the film's three main characters; Chief Brody, complete with bucket of chum, the loveable Matt Hooper, as well as the experienced fisherman Quint, who is armed with a spear gun, but also Jaws himself, who has arrived to take out the rest of your Pop! Vinyl collection!

It may not be safe to go back in the water, but it's certainly safe to say that the new Jaws Pop! Vinyl Figures are an essential addition to any true Funko collection.