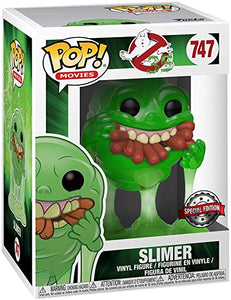 Pop! Movies: Ghostbusters - Slimer (With Hot Dogs) Special Edition
Who you gonna call when ghosts start terrorising your Funko collection? Ghost-POP-sters!
35 years since its original release, Ghostbusters is still one of the most beloved films of all time. So with the recent news that a third instalment in the franchise is due for release in 2020, this little 'busters fan couldn't be more excited. I know what you're saying, "but I can't wait another whole year!", well don't panic because Funko have just announced a new wave of Ghostbusters Pop! Vinyl Figures to help fill the void.
Now I understand there's been a few Slimer Pop! Vinyls in the past, but tell me this, have you ever seen a Slimer Pop! with a mouth full of hotdogs? Didn't think so. Well maybe in the new standard wave, but guess what, here we have an EXCLUSIVE TRANSLUCENT variant of the Slimer with Hotdogs Pop! Vinyl Figure! If you ask me, it should be customary for every street vendor to have one of these guys on their cart. Not a street vendor? That's ok, Slimer doesn't discriminate, just keep an eye on him to make sure he doesn't go rummaging through your fridge to find more meaty treats. Add him to your Funko collection today!