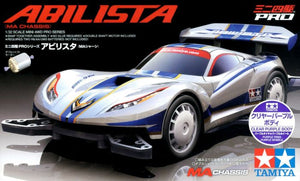 MINI 4WD ABILISTA CLEAR PURPLE SPECIAL
From the manufacturer:
This is a special Clear Purple color variation of the Abilista from the Mini 4WD PRO series. It is based on the modern MA Chassis, the mid-ship motor, aerodynamically advanced Mini 4WD PRO chassis.
"Midship Aero" chassis
This vehicle has the best of the MS chassis, which uses a motor with dual shafts, and the AR chassis which employs many cool aerodynamic chassis features. It enjoys similar ease of maintenance to the MS chassis, and its employment of a 1-piece chassis enables the machine to achieve excellent power transmission.