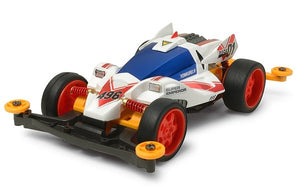 1/32 DASH-01 SUPER EMPEROR PREMIUM
- The premium version of the cartoon hero machine [Toshiro four wheel drive dash!], Of the emperor butterfly.
- II chassis adopts the super high rigidity, large diameter slick six-spoke wheels of Red
Tires.
- 13mm Plastic Roller gear cover lock and open one lock is possible in the one-touch
Orange made of ABS.